Trends 2021: Warehouse Automation
23rd December 2020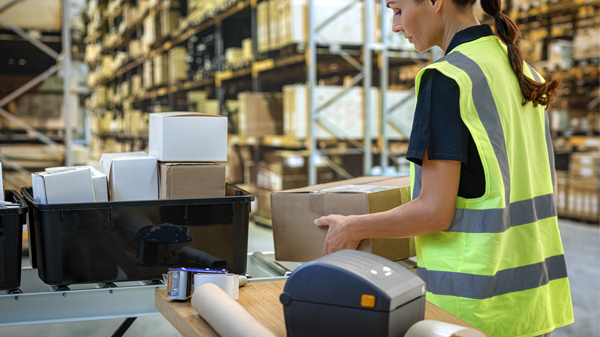 By Mark Wheeler, Director, Supply Chain Solutions, Zebra Technologies.
Warehouse automation acceleration.
1. How has the pandemic impacted warehousing and logistics operations in 2020, 2021 and beyond?
With the pandemic, warehouse operators are dealing with challenges such as changing customer demand patterns which are strongly impacting the supply chain. Manufacturing interruptions, lack of components, and labor shortages create an ongoing supply chain disruption.
Warehouse operators need to develop and quickly scale their capabilities to adapt to these demand dynamics, considering resources and workforce management. In this new age, enterprises must comply with social distancing rules while dealing with a constrained labor market due to COVID-19. As a result, many favor physical automation to maintain efficient fulfillment operations and productivity. Robotics and intelligent automation are gaining traction and will be accelerating in the next few years.
Warehouse automation acceleration – spanning the entire supply chain from warehousing operations to distribution centers – has been driven by the need to deliver directly to consumers in increasingly shorter timeframes. Carriers such as FedEx, DHL and SF Express in China are shipping at peak volumes daily. This acceleration will continue in 2021 and beyond.
2. What is warehouse automation and its benefits for customers?
Warehouse automation is the combination of mobility, physical automation along with technologies such as RFID and temperature sensing. Combining these technologies with the growth of robotics, including cobots that interface and collaboratively work with humans can help fulfillment centers improve e-commerce operations. For example, integrating temperature-sensing solutions such as Zebra Temptime can indicate if vaccines, medications, biologics, blood, food and more have been exposed to potentially hazardous conditions that could impact their efficacy or safety.
Physical automation
This is the capacity to improve how products are physically moved in the warehouse with robots or cobots. These solutions help to remove repetitive manual processes and unnecessary walking time, improving worker productivity and efficiency.
Warehouse operations are impacted by low-value worker travel in the picking processes. Zebra's warehouse vision study states that typically 50% of ecommerce warehouse employees are picking orders and that 40-70% of their time is spent moving between picking locations. Technology such as wearable devices, collaboration solutions, Android™ mobile computers and robots/cobots (collaborative robots) all help manage and enhance labor utilization and reduce costs.
Today, a typical warehouse operator can walk many miles a day moving goods from different warehouse locations to the dock to have them shipped. Using an autonomous mobile robot (AMR) significantly reduces this as the goods are brought to the operator within a specific workflow, increasing worker picking time and overall efficiency.
Warehouse operators and fulfilment centers face today need to automate their operational workflows to respond to continued increasing demand.
RFID technology and machine vision
Radio frequency identification (RFID) technology and machine vision integrated with computer vision provides the visibility needed without relying on an under resourced workforce. Having solutions that enable a "visible warehouse" is a key part of warehouse automation.
We've seen a growing interest and demand in RFID, machine vision and computer vision systems. The ability to plan more effectively has become critical for warehouse operators, and this will continue in the future. The need for greater visibility and effective intelligent planning is also becoming increasingly critical. Data is an invaluable asset and its power is only unlocked if it is actioned at the right time to the right person to drive an improved outcome.
Using machine vision and computer vision system solutions can help optimize resources, maintaining operations, saving costs and increasing productivity. You can think of machine vision as being the "eye" while computer vision is the "brain" of a system. These are interdependent technologies. Machine vision technology transforms images into actionable information using image analysis for inspection, quality checking, or anomaly detection against a known specification or comparison. These technologies provide greater visibility in what we call the "visible warehouse." Warehouse operators are looking to increase shipping and picking visibility accuracy which is why they need the right technology to be able to achieve this.
In the new normal global economy, it is critical for warehouse operators to adapt their processes, workflows and operational models to increase overall efficiencies and productivity by adopting new technologies.
3. What is the technologies' impact on warehousing and supply chain, and what are the top technologies for successful warehouse automation?
Several dynamics and trends are impacting the warehousing and supply chain landscape. The sharp rise in e-commerce sales is putting pressure on retailers to implement omnichannel strategies for online order fulfilment. This has shifted goods from retail shelves to warehouse racks. Retailers, logistic service providers (LSP) or third-party logistics (3PL) providers are challenged by consumer demands for faster and cheaper delivery, while at the same time managing with less workers in their warehouses.
The ongoing peak activity due to the pandemic means that warehouse automation technology is key for enterprises to maintain operations and manage their critical workflows. To increase productivity, it is key to have visibility of people, assets, materials along with integrating warehouse processes with intelligent physical automation. Speed matters more than ever, and this needs to start at the edge.
RFID technology and prescriptive analytics solutions gives enhanced visibility into warehouse workflows through devices held or worn by workers. Warehouse operators need to get the right workflow execution software and prescriptive guidance tools to optimize worker efficiencies. They need to equip their workers with hands-free mobile devices so they can quickly access the right information at the right time. With the growing use of robots including cobots that interface and collaboratively work with people, this can help fulfillment centers improve e-commerce operations. Integrating intelligent temperature sensor solutions such as Zebra Temptime can indicate if food, vaccines, medications and more have been exposed to potentially hazardous conditions that could impact their efficacy or safety. Legacy providers will have to adapt to meet this growing online customer demand to stay competitive, or risk being left behind.
4. How can technology help warehouse operations be more efficient?
Agility matters more than ever and is one of the key challenges for warehouse operators today as they need to understand how every fulfillment center is operating in real time to be effective and efficient.
Today and tomorrow, warehouses must explore new ways to maintain operations, improve productivity and increase profitability. Understanding their end-user data to help them achieve this is critical. We see an increasing need for mobility and visibility across warehouse operations as well as data analytics planning, predictive modelling solutions and automation. Many customers today are starting to integrate intelligent automation solutions into their warehouse and supply chain environments. Systems with computer and machine vision and robots and cobots will continue to drive automation into 2021 and beyond.
While cost savings are a major factor for automation, some enterprises have seen their early embrace of this as a competitive differentiator, enabling them to increase throughput, fulfill orders quicker, and enhance customer satisfaction.