Rugged Tablets with Built-in 60-ft Range
6th February 2023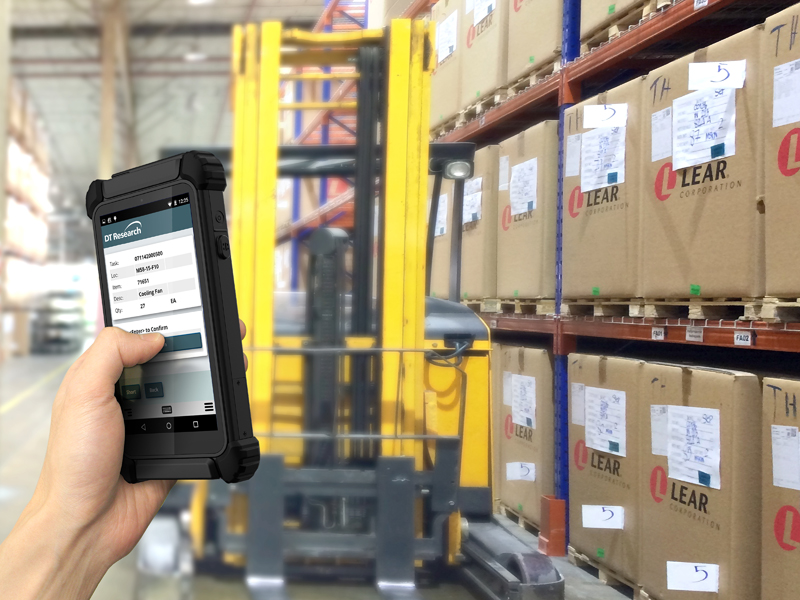 DT Research, a leading designer and manufacturer of purpose-built computing solutions for vertical markets, today announced the company's DT362GL (6-inch) and DT382GL (8-inch) rugged tablets have been enhanced with built-in 60-foot range Barcode Scanners in addition to 30-foot range Ultra High Frequency (UHF) RFID readers to continue to deliver cutting-edge long-range asset verification and tracking capabilities. The DT362GL and DT382GL handhelds now run the Microsoft® Windows® 11 IoT Enterprise operating system, which enables a seamless field-to-office asset management experience.
The new long-range asset tracking capabilities within the DT362GL and DT382GL have been purpose-built for utility, military and other industrial warehouse environments.
"While the use of RFID tags continues to grow, barcode scanning remains a favoured tool for asset tracking because of the lower cost, high reliability in a broader set of environments, and the ability to identify a specific serial number on an item within a pallet or container," said Daw Tsai, President of DT Research. "Therefore many organizations use both barcode and RFID tags during asset tracking and inventory management processes. These enhanced DT362GL and DT382GL rugged tablets provide our customers with a comprehensive long-range asset tracking solution within a compact and durable, yet robust mobile device running the latest Windows® OS."
Long Range Barcode Scanning
The barcode scanners built into the DT362GL and DT382GL rugged tablets are equipped with special scan engines that enable them to read 1D and 2D barcodes up to 60 feet away. In utility, military and other warehouse environments, asset tags can be located 30-40 feet from the ground or located in hard-to-reach areas. The 60-foot range barcode scanner saves users time and improves worker safety by eliminating the need to climb ladders and crawl over equipment.
UHF RFID Reader
The DT362GL and DT382GL rugged tablets include an optional embedded UHF RFID module powered by Jadak ThingMagic technology, which enables secure access verification within 16 feet or up to a 30 foot range using an external pistol grip antenna. UHF RFID readers have a broad range of uses, from inventory and equipment management without manual data entry to locating underground infrastructure assets such as gas pipelines and sewer lines.
"Our customers have told us that asset verification and visibility is essential to them, but it can be labour intensive, time-consuming and expensive," said Rob Droppa, GM, Government Solutions. "Studies have shown it can take up to five minutes to capture all the information necessary to verify an asset in a warehouse or the field and errors in data entry cost about $300 on average to correct. But by using our purpose-built, Windows® powered mobile devices to scan barcodes and read RFID tags at long ranges, it's possible to capture the information of multiple assets within seconds and significantly improve the accuracy of the data captured."
The DT362GL and DT382GL fanless handhelds are IP65 rated and MIL-STD-810G to deliver reliable operation in harsh and mission-critical environments with a hot-swappable battery pack that enables continuous operation. Both indoor and outdoor viewing is made possible through high brightness capacitive touch screens. These rugged handhelds offer seamless information capture and transmission in both secure and non-secure environments through a combination of barcode scanning, UHF RFID, smart card readers, dedicated GNSS modules and cameras.
The DT362GL and DT382G rugged tablets offer a robust set of features and options that include:
* Military-grade Durability and Reliability: IP65-rated for water and dust resistance, MIL-STD- 810G certified for shock and vibration protection. FCC Class B, RoHS compliant and HERO (Hazard of Electromagnetic Radiation to Ordnance) certified. NIST compliant BIOS available.
* Indoor-Outdoor Display: 6-inch (DT362GL) or 8-inch (DT382GL) LED-backlight screen with capacitive touch and digital pen support.
* Long Range Barcode Scanner: Reads 1D and 2D barcodes up to 60 feet away.
* UHF RFID Reader: 865 – 928MHz, EPCglobal Class 1 Gen 2/ ISO 18000-6C.
Reading distance of 16 ft (4.87m) with built-in ThingMagic micro module and embedded antenna. Reading Distance of 30 ft (9.1m) with trigger grip.
* Enterprise Operating System: Microsoft® Windows® 10 or 11 IoT Enterprise.
* Wireless Communications: Wi-Fi 802.11ac and 4.2 LE Bluetooth.
* High Performance and Energy Efficient: Intel® Pentium® Silver 4-core processor.
* Smart Card Reader: Built-in Common Access Card (CAC) full slot reads ISO 7816 T=0, T=1; 1.8/3/5V smart cards.
* Continuous Operation: Hot-swappable battery pack eliminates downtime.
* Security: NIST compliant BIOS available.
* Back Camera: 8 megapixel back camera with auto focus, white balance, gain control and exposure control.
* GNSS Module: U-blox M8 GNSS module with concurrent reception of GPS & GLONASS; Industry-Leading – 167 dBm navigation sensitivity.
* Certifications: C1D2 – Groups A, B, C and D. HERO (Hazard of Electromagnetic Radiation to Ordnance) certified.
* TAA Compliant: Manufactured in compliance with the requirements of the Trade Agreement Act (TAA).
Availability
The DT362GL and DT382GL rugged handheld tablets are immediately available from DT Research's authorized distributors and resellers.