New RFID-Label for Forward-Thinking Container Management
4th January 2018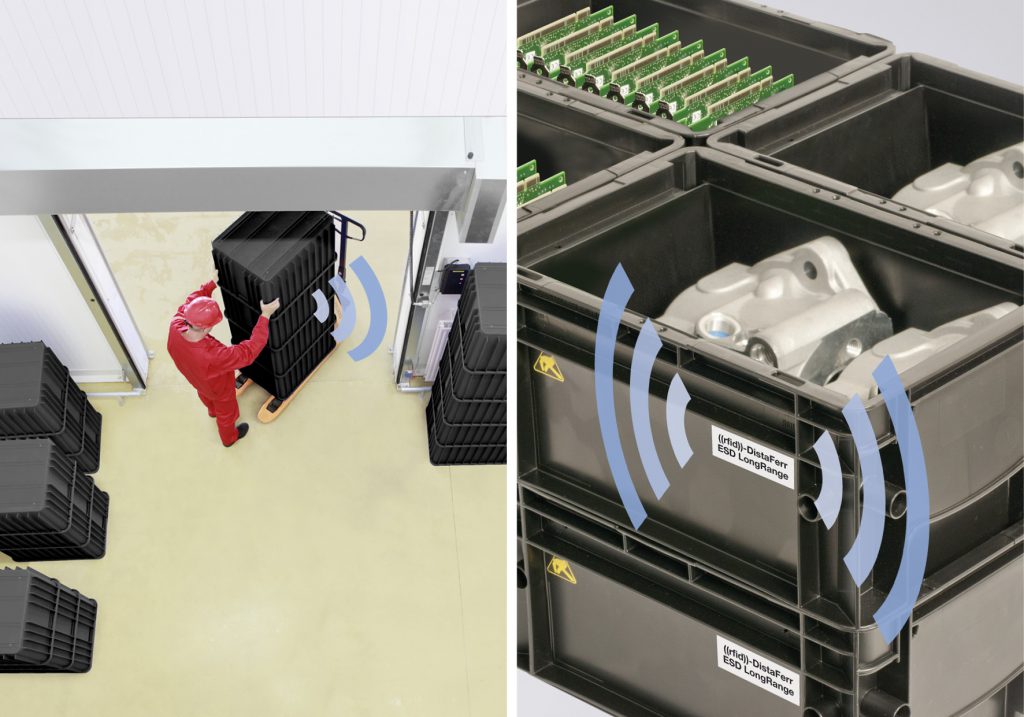 At LogiMAT 2018 (Stuttgart, March 13 to 15), Schreiner ProTech will present its new ((rfid))-DistaFerr ESD LongRange label for container marking that has recently enhanced its RFID label family for ESD materials.
The company says that modular manufacturing in Industry 4.0 scenarios can only be implemented by means of a holistic RFID concept. In conventional mass production operations, the parts to be processed typically still arrive at the respective assembly stations in containers via a Kanban system with barcode expansion card functionality – an equally complex and error-prone logistics system. By contrast, containers equipped with RFID labels that enable complete bulk data acquisition, guarantee end-to-end batch or lot tracking, and make optimized empties management possible due to real-time inventory information provide a forward-thinking solution. However, the diversity of container sizes and, specifically, ESD materials on which conventional RFID labels do not optimally function poses a challenge.
Schreiner ProTech has therefore extended its ESD RFID label family by the ((rfid))-DistaFerr ESD LongRange label. The new label is specifically designed for use on ESD containers of all types and antistatic levels, and delivers read range of about 7m. As a result, it meets the recommendation of the German Association of the Automotive Industry (VDA) for ESD container marking. Another new product in the portfolio is a hybrid label that combines NFC technology with RFID UHF technology. This RFID label enables both long-range reading in manufacturing and logistics, and smartphone-based reading at customer sites.