Casio Europe Introduces Two New Android Mobiles
13th February 2020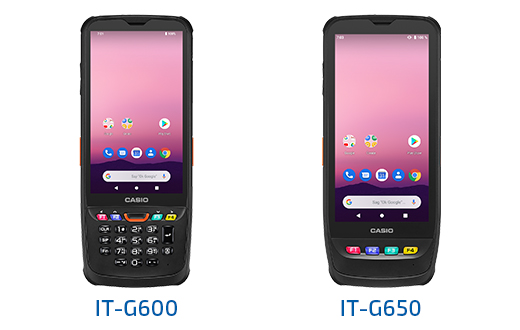 Casio Europe GmbH has launched two new Android mobile computers. The IT-G600 has a keyboard plus function keys and a 4.7″ full touch display; the IT-G650 offers a large 5.5″ full screen.
As new flagship models, the IT-G600 and IT-G650 are equipped with one of the most powerful CPUs in their product category and with a strong 4 GB RAM, which guarantees smooth work processes. The Android 9 operating system makes them very versatile. This means that not only business applications developed for the operating system can be used, but also industry specific ones, such as those used in the retail, manufacturing and logistics industries.
The new models are designed for a comfortable grip and operation with one hand. They feature CasioScan25° for particularly ergonomic working: the scanner is attached to the back with a 25° angle, for easy scanning of barcodes overhead, at face and at floor level. This excellent usability makes work more efficient and ergonomic.
The IT-G600 is robust enough to withstand a fall from 1.8 m and even 2.5 m with a bumper (1.5 m and 2.1 m for the IT-G650). Both models can be used in temperature ranges from –20°C to 50°C. Since they are also dust- and waterproof (IP67 compliant*), the handheld terminals are suitable for a variety of working conditions.
* Dust cannot penetrate the unit. When temporarily submerged with a constant water pressure, water will not
penetrate the unit.