STILL welcomes 64 new apprentices and students
2nd September 2022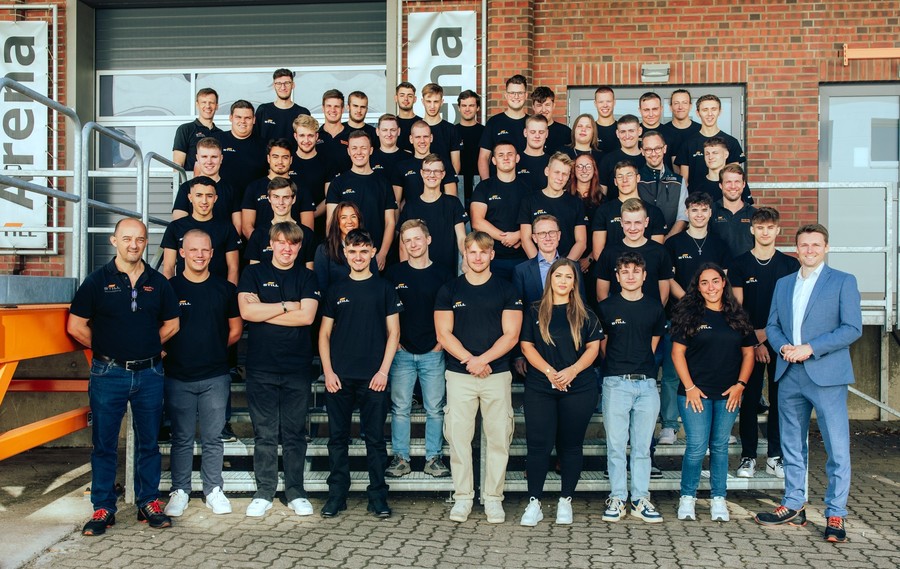 Intralogistics company STILL is welcoming 64 new apprentices and students to its headquarters in Hamburg and its seven branches throughout Germany in September 2022. The new recruits are starting their training and study periods in six apprenticeships and three dual study programmes. For the first time, STILL is also supporting the dual course of study in 'Computer Engineering & IT Engineering'.
The STILL training team welcomes new recruits to the company with the traditional Welcome Day at the Hamburg head office and via video streaming to all branches. The newcomers are given a comprehensive impression of the company, its products and its philosophy and get to know each other at the final barbecue. In the coming weeks, first insights into the different professional and learning environments, team-building activities, briefings on the current safety and prevention standards as well as a one-week forklift construction seminar will follow.
Innovators of tomorrow
"The training of qualified new talent has seldom been as important as it is at the moment," emphasises Jan Wehlen, training manager at STILL. "We need competent, smart and innovative skilled employees to successfully meet future business challenges ranging from energy and sustainability to new technologies in the field of automation and robotics.
"At STILL, we are very aware of this responsibility – but also of the great opportunity for qualified specialists to help shape the future of our company and the industry as a whole. Accordingly, training young talent is a top priority for us."
STILL has already proven many times in recent years that this is not an empty promise – with an excellent training programme, committed trainees and a wide range of qualification opportunities. STILL regularly receives awards for the high quality of its training. As part of the 'Hamburg's best training companies' certification, STILL was awarded the top score of 5 stars for the seventh time in 2020. The company's own retention rate also speaks for itself: all 36 graduates of the class of 2022 have been offered a job or a postgraduate position at STILL.
Post-pandemic challenges
Despite its excellent reputation as a training company, the recruitment of new trainees and students presented the company with major challenges for the first time. "We clearly noticed during the application phase that career and study counselling at schools only took place to a limited extent in the past two years. As a result, many young adults today are inadequately prepared for their choice of career," explains Wehlen.
"We are all the more pleased that we were able to award our apprenticeships and study places to highly motivated young people, whom we are now supporting on their exciting and eventful journey into intralogistics."
35 new trainees in Hamburg
At STILL's head office in Hamburg, the training period has begun for 29 apprentices in six different professions – from mechatronics and industrial mechanics to industrial clerk. For the first time, one of them is a female trainee in construction mechanics.
"Unfortunately, female apprentices are still rare in technical professions," says Wehlen. "We are all the more pleased to welcome a female apprentice in construction mechanics for the first time this year and hope that we can inspire more young women to take up technical jobs in the future."
Furthermore, six young adults are starting their dual studies. In addition to "Electrical Engineering and Information Technology" and "Mechatronics", there is also the "Computer Engineering & IT Engineering" course of study for the first time. Here, students at the Nordakademie learn to address the complex issues of the digitalised economy, artificial intelligence and the Internet of Things – skills that will not exclusively be indispensable for the intralogistics industry in the future.
With the start of the 2022 training year, STILL will be training a total of 204 young talents at nine locations across Germany in seven different apprenticeships and nine dual courses of study. The full range of training opportunities can be found at www.still.de/karriere.