Knapp Announces US Management Changes
11th February 2021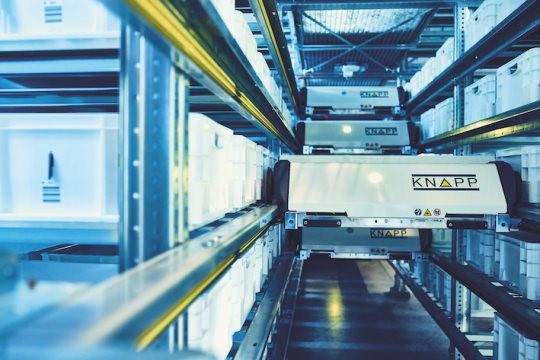 Effective April 1st KNAPP is announcing an initial round of promotions and restructuring at its Atlanta-based, North American subsidiary.
"Over the last five years the KNAPP North American subsidiary has experienced significant growth. Our growth has driven the need for change, which in many cases has been informed by, and a direct result of, your suggestions and feedback. Our initial investments have focused on infrastructure, including the investment in a new facility, expansion of our campus at the North American headquarters, and a new training center that is planned to be operational later this year. Investments have also included upgrades to our networks and subsystems – to address the need for added capacity, response and reliability. And lastly, the need for a more comprehensive training infrastructure was of critical importance, both internally, for added staff, and to better serve our customers.
What operations changes have we made?
Through these last several years, Gernot Rupp our SVP of Service and Procurement has done outstanding work; growing both the KNAPP North America service and support organization – and scaling procurement to meet the needs of a rapidly expanding business unit, while keeping pace with the physical changes we have made here in Kennesaw. The extent of our growth however necessitates additional changes and an expansion of our management structure. Effective April 1st, we are separating the service and procurement roles into separate full-time positions within the company. Gernot Rupp will lead the procurement organization here at KNAPP, as SVP Procurement.
Wes Goode joined the KNAPP team just as we entered 2020 – and working closely with Mr. Rupp over the last year, rapidly shifted much of our focus to Covid related challenges that have faced our industry. Coincidentally, many of the impacts also drove new business growth at KNAPP, specifically in grocery, retail, healthcare – and eCommerce.
Having built a substantial and successful customer service group in his previous position, focused on implementation, service and support dedicated to meeting the daily needs of customers, Wes was the obvious choice to assume responsibility for our customer service organization. Effective April 1st, Wes Goode will lead this group as VP Customer Service. The investment in customer service and lifetime support has become of increased importance to the KNAPP organization as we also expand our Resident Maintenance Program – and expand a partnering program designed to focus on shared outcomes and best-in-class performance. As such, this position will now report directly to the Board.
Lastly, our increase in projects and installed systems requires an expansion in US based software product development and implementation teams. Effective April 1st, Chris Brennan will assume the role of VP Project Implementation where his responsibilities will include project software development, commissioning and installation. Our goal is to continue a process of building and training our implementation, service and support teams to better serve our customers. This will take the form of continuous improvement and ongoing investment in infrastructure, personnel, training and programs – with the goal of creating a world-class customer service organization."