Arocs 50th Birthday Treat For York Haulier
8th January 2016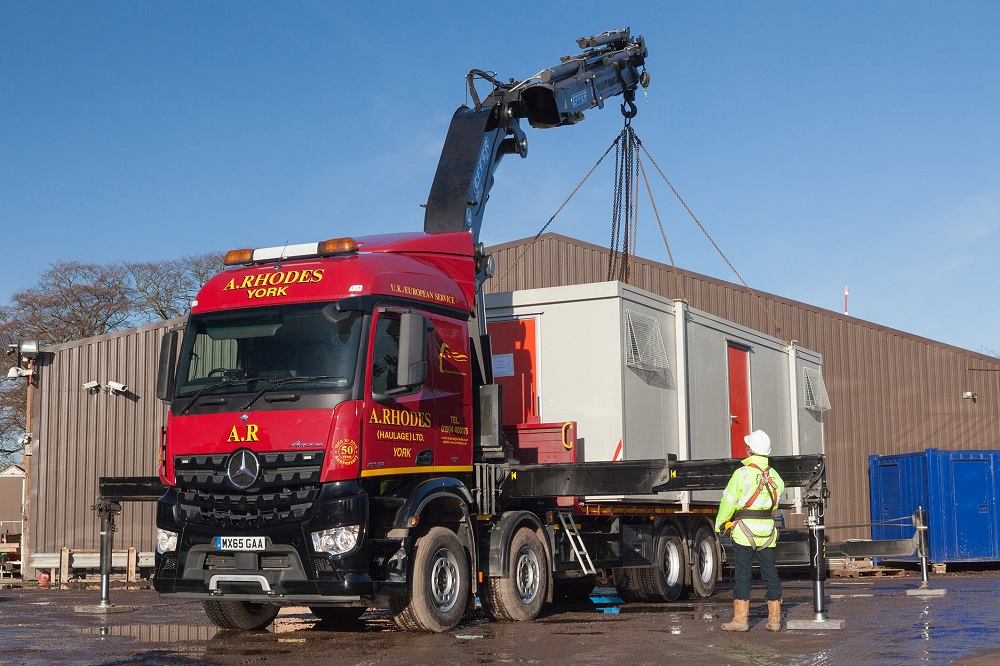 Portable accommodation transportation specialist A Rhodes treated itself to a special 50th birthday present in the shape of a muscular 8×4 Mercedes-Benz Arocs with impressive 85 tonne-metre Effer crane.
The latest addition to the York (UK)-based operator's fleet has joined a fleet of 12 crane trucks, a combination of four- and six-wheeled rigids, and tractor units.

"The smaller rigids are typically equipped with 50 tonne-metre cranes, while the tractors start at 70-tonne-metres and go up to 150 tonne-metres," explained Managing Director John Rhodes.

"The market is constantly changing and we've responded by investing in a new truck that plugs a gap and increases our flexibility, allowing us to maximise utilisation and efficiency of the fleet."

Supplied by Roanza Truck & Van, A Rhodes' first Mercedes-Benz Arocs is a 3243L model with StreamSpace cab and state-of-the-art, in-line six-cylinder engine, which produces 315 kW (428 hp) and drives through a 12-speed Mercedes PowerShift 3 automated transmission.
The same Dealer is also processing orders for two more vehicles, one based on an 8×4 Arocs tipper chassis that will undergo conversion and strengthening so it can be fitted with a 140 tonne-metre crane.
As with A Rhodes' other trucks, the crane on its new Arocs was supplied and fitted by ACB Cranes, of Stoke-on-Trent, whose Managing Director Paul Ruscoe is involved from the initial planning stages through to the delivery and training.
A Rhodes (Haulage) was founded by Mr Rhodes' father Arthur in 1965 and operates from a base at Stockton-on-the-Forest, on the outskirts of York. The firm also operates another 13 trucks on general haulage duties. However, most of the growth seen over recent years has been in its specialist division, which focuses on the movement and deployment of portable accommodation units nationwide for some of the industry's leading manufacturers.
Added John Rhodes: "We work our vehicles hard and expect them to provide a minimum of 10 years' reliable service. Long experience has shown that Mercedes-Benz chassis can be trusted to last the pace, which is why we've remained loyal to the brand."