2019 everywoman in Transport & Logistics Awards Winners
14th June 2019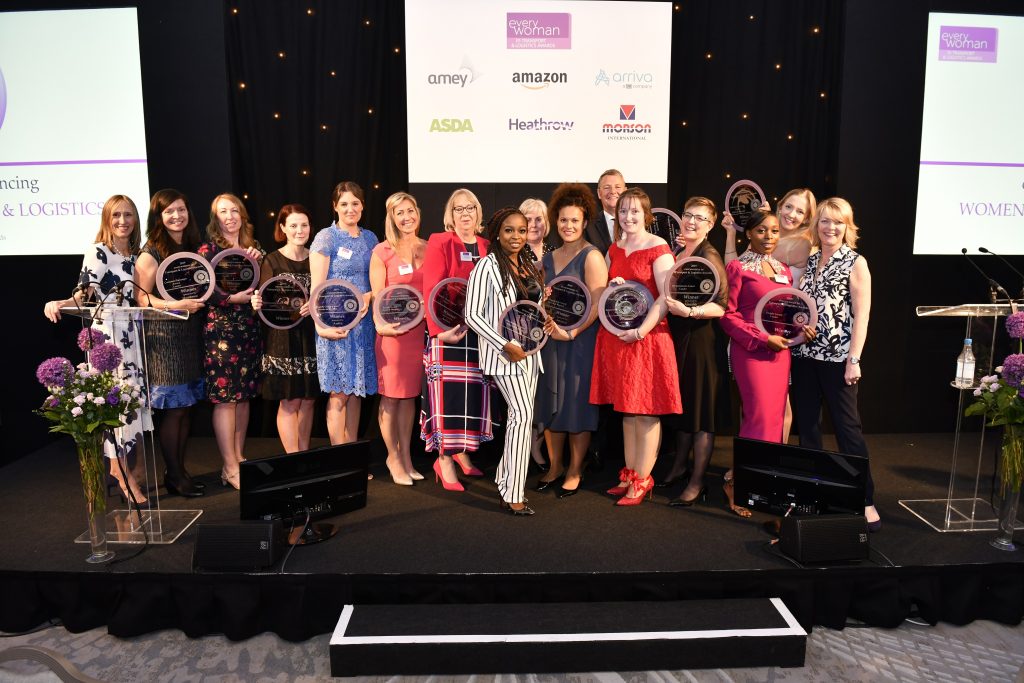 everywoman – one of the UK's largest networks for women in business – just celebrated 14 winners at the annual 2019 everywoman in Transport & Logistics Awards. For 12 years everywoman has championed women in the transport and logistics industries, showcasing and celebrating the sectors' most exceptional role models.
The winners revealed a wide range of career experiences and journeys, revealing the extent of the opportunities traditionally associated with the industries. These individuals not only make positive contributions to the businesses for which they work, but also support community initiatives and "pay it forward" by supporting and mentoring the young talent that follows them. From the woman who saved a client £15 million through technology innovations, to the woman responsible for introducing over 3,000 "walk to school" projects to help reduce air pollution, this year's winners are the epitome of creative excellence. The use of technology and emotional intelligence is becoming more important than ever to thrive in this evolving industry, and they prove just that.
For the first time this year, the awards introduced a category to also showcase the young and new talent already thriving in the industry: the "Apprentice of the Year" award.
A special "Woman of the Year" award was handed to Allison Kemp, who founded AIM Commercial Services, a business that keeps vehicle operators compliant through its knowledge of the industry, an extensive training academy and rigorous audits. After trying her hands at the construction industry for two years, she followed in the footsteps of her father and grandfather by embarking on a career in logistics. Aged just 26, Allison became the Transport Manager for Hornigold Haulage in Wellingborough and in 2018, became the first woman ever to become the deputy chair of the Freight Transport Association National Council. Allison was singled out because she leads by example and there is no role within the business she cannot fulfill. She is completely hands-on and personally leads various different training sessions across the UK on a regular basis, including the First Aid that gives drivers and office staff confidence to deal with emergencies. She also oversees the continuous development of her team, actively trains them to develop their skillset, whilst inspiring young school students to consider a long-standing career in transport and logistics.
The other awards winners were:
The Freight Award
Above and Beyond
• Katie Susans, Hubs Change & Implementation Lead, TNT, from Atherstone
Leader
• Kimberley McIntosh, Service Deliver Leader, Royal Mail, from London
The Customer / Passenger Award
Above and Beyond
• Amy Chapman, Customer Ambassador, Great Western Railway, from Exeter
Leader
• Jenni Wiggle, Senior Director, Living Streets, from London
The Infrastructure Award – sponsored by Amazon
Above and Beyond
• Lisa Hogben, Programme Delivery Manager, The Nichols Group, from London
Leader
• Marianne Kilpatrick, Director, SNC-Lavalin Atkins Transport Consulting & Advisory, from London
The Supply Chain Award
Above and Beyond
• Kelly Pepper, Head of Business Development, Unipart Rail, from Crewe
Leader
• Anita Donohoe, Vice President and Global Key Accounts, CEVA Logistics, from Ashby de la Zouch
The Warehousing Award
Above and Beyond
• Georgia Akuwudike, Senior Operations Manager, Amazon, from Coventry
Leader
• Karen Hopkinson, General Manager, Co-Op, from South Normanton
Industry Champion Award – sponsored by Asda
• Angie Doll, Passenger Services Director, Govia Thameslink Railway, from Croydon
Male Agent of Change – awarded to a man for his active commitment to advancing the progress of women working in transport and logistics
• Gordon Wakeford, Chief Executive Officer, Siemens Mobility, from Poole
*New for 2019* Apprentice of the Year – sponsored by Amey
• Caitlin Slade, Apprentice Vehicle Technician, Royal Mail Fleet, from Croydon
Maxine Benson MBE, Co-Founder of everywoman, comments "This year has presented a new wave of exceptional talent and impressive career success stories with both genders making immense contributions to the transport and logistics industries. It has been proven time and again that gender diverse teams make better business decisions[1], which is why introducing more female talent to a male-dominated industry is so essential. The collaboration of ideas, fusion of knowledge and cross-pollination of skills is what is needed for the growth of any business."
For further information, please visit www.everywoman.com/tlawards