Improved customer service with Beumer Smart Glasses
2nd June 2022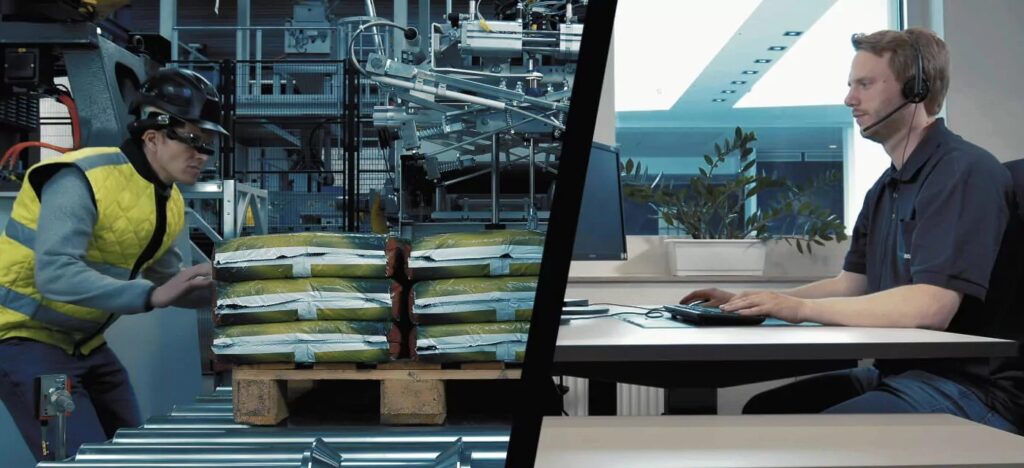 If faults and downtimes occur in machines and companies are unable to rectify them as quickly as possible, this can be expensive for them. With the Beumer Smart Glasses, the Beumer Group has developed a pioneering product that helps users to avoid precisely this quickly and easily: Beumer Customer Support employees look over the shoulder of the customer's service technician virtually and solve the problem together with him. Remote commissioning is also possible.
The employee at the machine puts on the glasses and starts the Beumer Support App via voice command. He transmits a service number and a pin code to the hotline, and the connection with image and sound is established securely. The Beumer technician receives the same image that the customer sees. This means that he can give him instructions directly and display all relevant information in the field of vision.
The employee has both hands free to follow the expert's instructions and perform the necessary actions. In this way, faults can be solved quickly and precisely – at any time. Beumer experts are available around the clock, seven days a week. Language barriers or a lack of specialist knowledge are therefore no longer relevant when troubleshooting. Based on the recorded images, the experts can better clarify with the operator why the fault occurred in the first place.
With the digital solution, customers can not only be helped in case of malfunctions or downtimes of existing plants. Remote maintenance is also possible, in which Beumer experts connect to the system – regardless of the time or day. This increases the availability of the machines, as no long journeys are required. In addition, there is the option of remote commissioning: The Corona pandemic is massively changing the travel behaviour. Due to travel restrictions, the technicians cannot always be on site. Nevertheless, it is important to get new machines up and running quickly.
The data goggles allow an overview of the entire system: Beumer Customer Support sees the same as the wearer on site and can directly prescribe the correct actions. In this way, he guides the user step by step through commissioning. The Beumer experts can react flexibly with this procedure.