IFOY Test Report: Sentics ORTLS
20th June 2023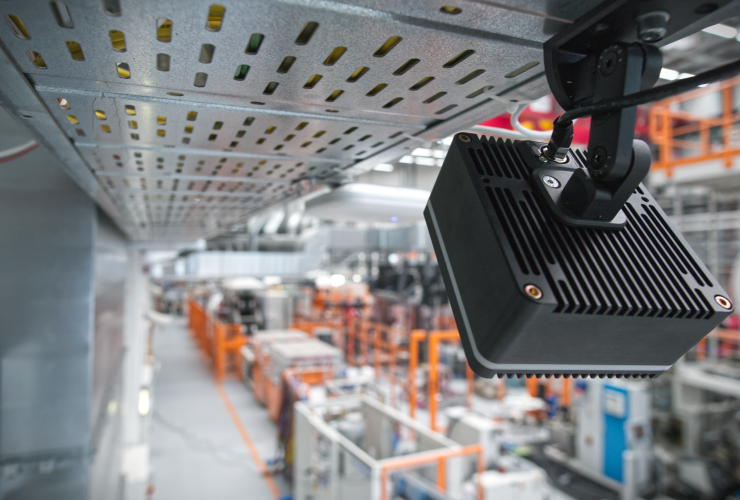 With just a few days to go before the IFOY Award winners are announced in a glittering ceremony in Dortmund on June 22nd, we look at the optical real time locating system (ORTLS) from Sentics GmbH.
The start-up Sentics has developed and launched the first optical, AI-based real-time location system for industrial applications. The complementary software products significantly increase safety and efficiency in intralogistics.
IFOY category: Start-up of the Year
IFOY Test Report
Sentics optical real-time localisation system is based on infrastructure sensors installed in the industrial environment. The sensor system detects and localises relevant objects such as forklifts, people or machines and makes this information available for numerous applications. Real-time analysis of the locations and movement profiles of people and industrial trucks enables critical situations to be detected at an early stage and accidents to be prevented by means of warnings and automated reduction of travel speed. With the help of a targeted configuration of the driving strategy, users can also preventively reduce the driving speed in hazardous areas. Conversely, industrial trucks can continue to operate with high productivity if there are no people or other obstacles in the travel area.
The localisation system can also be used for autonomous transport systems, which can currently only be operated with limited productivity due to the challenges of mixed traffic with manual vehicles and people. For this purpose, information about all driving areas is provided in real time and made available to the fleet managers of the autonomous transport vehicles. An analysis of historical movement profiles also enables safety and productivity to be increased.
Alternative real-time localisation systems are based on additional technical devices (transponders) that must be worn by people or installed on industrial trucks. Besides the administration and maintenance effort (issuing to employees and visitors, recharging batteries, replacing defective devices, etc.), these systems have a disadvantage for security applications. If a person is not wearing the transponder or if it is defective, then that person cannot be protected. Sentics' system does not require any additional technical devices. Thus, there can be no failures in the condition of the system. At the same time, the system is scalable in any way, because compared to transponder solutions, devices are not limited.
IFOY test verdict: In German companies, there were about 32,000 reportable accidents with industrial trucks in 2020, 10 of which ended fatally. This is according to statistics from the German Social Accident Insurance (DGUV). Sentics' optical, AI-based real-time localisation system provides a solution that can help improve these figures. In addition, collaborative concepts can be implemented by integrating people, manually operated and autonomous machines – an aspect that should not be underestimated against the background that forecasts assume further growth in the AGV/AMR sector.
IFOY Innovation Check
Market relevance: The field of in-process identification technologies and their applications will be of great importance in the future in even more digitalised and automated industrial and commercial environments. Sentics not only offers a camera-based, i.e., optically working solution, but also shows safety-relevant applications of the technology, which make an amortisation possible over multiple benefits. This area of occupational safety is emphasised by Sentics itself. Certainly, the feasibility of occupational safety measures with other applications (identification, tracking & tracing) is of particular importance.
Customer benefit: The product and the applications shown offer multiple customer benefits by implementing parallel functionalities. On the one hand, the localisation of automated devices (AGVs, AMRs, etc., which themselves use localisation technology) and non-automated objects (humans, forklifts, etc.) is combined. The objects do not necessarily have to be equipped with their own devices. If control interventions such as speed reduction are to be implemented, the objects are equipped with their own hardware.
Novelty / Innovation: Optical recognition using computer vision methods is well known but is not yet widely used for comparable applications. The combination of localisation, recognition of people and active intervention in the controls is a good innovation leap.
Functionality / Type of implementation: The integration of automated technology and manual process participants in a closed system shows very good potential for implementation and is an important step into the future world of networked Industry 4.0. Especially the implementation with relatively simple cameras and the avoidance of wearables or other devices for the people participating in the process offers many advantages. The combination of several sensors in a defined environment and the joint use of their data (sensor fusion) is an intelligent solution for the multiple use of the technology employed in several applications.
Verdict: Nice application for camera-based detection and localisation of moving objects. Can neatly increase safety, but can also be used for rule-based actions for control. With this, the forklift learns to "see around the corner"! Certainly in the future, much more innovative goals are achievable with the system (detection of specific containers and load).
Market relevance +
Customer benefit +
Novelty / Innovation +
Functionality / Type of implementation ++
[KEY: ++ very good / + good / Ø balanced / – less / — not available]