IFOY FINALIST FOCUS: robobrain.NEUROS
18th May 2022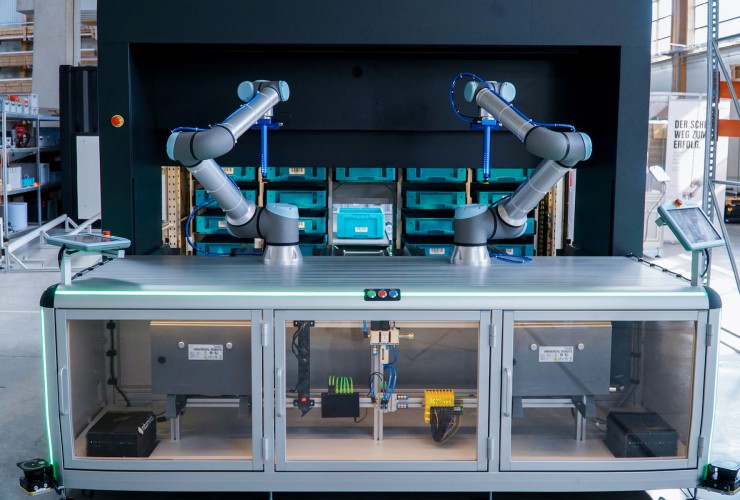 Continuing our product-by-product examination of each of the IFOY Award nominated finalists ahead of the winners announcement at BMW World on 30th June, we look at robobrain.NEUROS, the AI-based robotics operating system from robominds.
IFOY category: Robot
robobrain.NEUROS: running intelligent robotics. The latest coup of the Munich robot company robominds is the neural robot operating system for intelligent robotics and a platform for the next generation of automation.
NEUROS – optimised for robobrain, the industrial PC and as a platform for all robots, grippers and other kinematics – creates an automation environment that is user-centric and easy-to-use: for application scenarios of any industry and company size.
Description
robobrain.NEUROS (= Neural Robotic Operating System) is the industrialised operating system for intelligent robotics. The innovative basic principle is that every feature of the robotic components becomes a skill on the industrialised OS – easily obtainable via the robominds Skill Store, adaptable to individual needs or self-developable thanks to the robominds Skill SDK.
In many ways, robobrain.NEUROS helps its users to improve their economic efficiency and saving in resources. Parameterising and configuring instead of programming: the profitability of this simplified adaptation of own processes and hardware is plain to see. Because the process is at the centre and provides the intelligence itself, it remains flexible and scalable to further installations. This ensures investments and allows responses to changed products and production processes.
Those who want to automate their process, either can reach for the existing skill or optimise it to their own requirements. Alternatively, one can develop a skill entirely on its own – thanks to the numerous integrated assistants and wizards based on a framework that already has many functions. When the new or adapted skills are trained, the patented robominds-process impresses once again with its resource savings: Thanks to the unique physics simulation environment, the most complex AI models can be trained within a few hours – without humans or machines having to be involved in the physical learning process.
CLICK HERE to watch a video of robobrain.NEUROS
IFOY TEST REPORT
The Munich-based robotics company robominds, founded in 2016, has reached the IFOY AWARD final with its neural robot operating system "robobrain.NEUROS". Different skills can be uploaded to the software platform, for example a palletising application for intralogistics.
One platform, many applications, independent of components – this is how robominds comes to Dortmund. Optimised for the industrial PC robobrain and as a platform for all robots, grippers and other kinematics, NEUROS (Neural Robotic Operating System) creates an automation environment that is user-centric and easy to operate – for scenarios of any industry and company size. On the industrialised operating system, every function of the robotic components becomes a skill. The modular principle applies to both the software and the hardware. One skill, for example, is order picking. Several applications can be shown in the test setup: Palletising, box recognition, etc.
One does not see oneself as a system integrator, but as a problem solver. So the focus is not on the gripper itself, but always on the application. The skills, in turn, are easy to obtain: via the robominds Skill Store, individually adaptable or to develop yourself thanks to the robominds Skill Software Development Kit (SDK). There are vision skills (such as item picking or bin picking), control skills for the simple programming of robots or the fleet management of several robot cells, or driver skills for various robots, grippers, cameras, etc.
In times of shorter product life cycles and production quantities up to batch size 1, flexible processes place ever new demands on production and material flow for all companies. That's why the processes are always coming to the fore – the process is actually the core of modern production. And this is where robobrain.NEUROS comes into the game: Valuable process knowledge becomes more easily accessible through the robot operating system. At the same time, data security, data integrity and trusted AI are maintained through adherence to European standards, which is essential in the digital world and especially in the production environment.
The transformation towards adaptive processes affects just about all processes in the production of a material or goods flow. In robotics in particular, the potential for flexible applications is being exploited, which are thus becoming increasingly diversified and finding their way into different environments and applications. Especially the new fields of robotics, for example logistics or medicine, are growing the fastest – and so is the market potential for NEUROS. robobrain.NEUROS is already being used by corporations in various industries, especially in the automotive industry, pharmaceuticals and diagnostics, and intralogistics.
Flexible systems independent of hardware: This means that standard components can be used and the process adapted over their lifetime. This means that applications can not only be implemented cost-efficiently, but also that investments can be safeguarded for the future. The same advantages also apply to the areas of commissioning and operational capability – uncomplicated, fast and far-reaching thanks to artificial intelligence (AI).
IFOY Test Verdict:
The robobrain.NEUROS neural robot operating system can serve as a platform for the next generation of automation in logistics. It can be used to (create) an automation environment that is easy to use, economical and can save resources.
IFOY INNOVATION CHECK
Market relevance: The manufacturer-neutral neural robot operating system for intelligent robotics NEUROS aims to provide flexible robot processes for material flow and manufacturing as an answer to ever shorter product cycles and small series production. In this context, NEUROS addresses not only a wide variety of logistical processes in the areas of warehousing, pharmaceuticals and food, but also in production intralogistics through to assembly skills. The very high market relevance results from the breadth of applications and supported robot systems and the self-image as a technology supplier for system integrators.
Customer benefit: The user benefits from the process knowledge encapsulated in reusable robot skills, which are purchased instead of developed for individual automation systems in the Skill Store, as well as parameterised and configured instead of programmed. This enables new processes to be set up quickly and existing hardware to be used flexibly for a wide range of tasks in the long term. Due to its manufacturer-independent applicability, the Skill-Store also offers developers an ecosystem for marketing new capabilities.
Novelty: Open robot operating systems with a skill library have been realised in part before (e.g. ROS), but not consistently with the technical quality standards as with NEUROS. The profound support of AI methods should be emphasised as an innovation. Thanks to a physics simulation, new robot skills can be developed and trained in a few hours without real data. At the same time, the operation always remains clear and controllable. Another special feature is the quality assurance of software contributions from external developers and the assurance of Trusted AI according to European standards.
Functionality / type of implementation: The test robots reliably demonstrated a wide variety of logistical tasks such as model-free product separation, palletising of packages or sorting of test tubes. The special focus on stability, function and safety of the overall system is also reflected in the use of the specially developed AI industrial PC robobrain. In addition, NEUROS implements the specifics of AI-based solutions in an expedient, market-oriented and application-oriented manner, including simulation-based training methods, useful software tools, generic basic functions and the inclusion of hardware design. The system is modular and open to new technologies.
Verdict: The market relevance of a manufacturer-neutral and reliable robotics operating system with native support for AI-based processes can be classified as very high. Reusable robot skills, the possibility of using data and experience across manufacturer boundaries, and Trusted AI from Germany offer customers innovative added value. Even if not all ideas are entirely new, their high-quality implementation in NEUROS represents a new quality.
market relevance ++
customer benefit ++
novelty +
functionality / type of implementation ++
[++ very good / + good / Ø balanced / – less / – – not available]
For an overview of all the finalists, visit www.ifoy.org
CLICK HERE to find out more about robobrain.NEUROS.