Clever software drives AMR efficiency
19th May 2022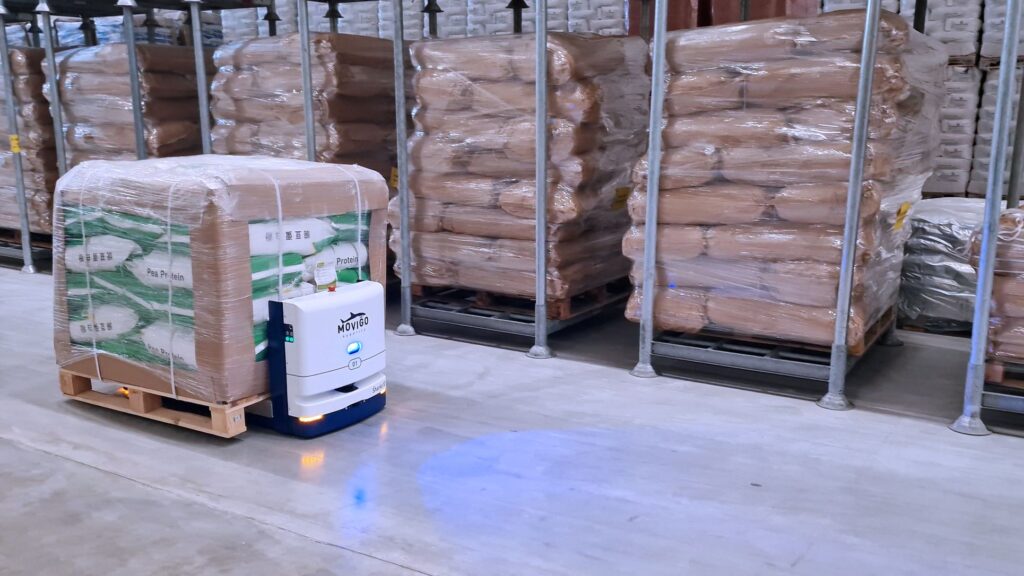 In production environments, intralogistics activities performed by humans are often non-value adding according to Lean methodology. Implementing autonomous mobile robots (AMRs) to perform these warehouse transport activities is a way to reduce those costs. But to let those AMRs work as efficiently as possible, clever software is a must.
MoviĜo Robotics says it is an AMR manufacturer that constantly aims to maximise the hourly performance of its AMRs. The Dutch company constantly looks for ways to improve the efficiency of the fleet with clever innovations, and has recently launched three new ones.
The first is smart lifting technology. This enables its Ŝharko10 to adapt its lift height depending on the payload characteristics, so it always lifts the payload with the minimal amount of time needed. A normal lift has two positions: up and down. MoviĜo Robotics' technology made the lifting height variable, so every lift movement that does not require to go to its maximum height saves time. The lift technology also adapts its riding height on the move. With the repetitive work of AMR's, this can create several minutes of extra capacity per vehicle per hour.
One of the main areas that MoviĜo Robotics aims to improve constantly is its order management software. Paul Van der Hulst, Co-Owner & Managing Director of MoviĜo Robotics bv, says: "Our solutions focus primarily on production companies, and their processes can be very complex. This requires clever order management software to ensure all transports are done efficiently and more importantly: on time.
"Costs of a production line standstill due to lack of raw materials can be significant. We found standard order management software inadequate and not flexible enough."
Software Director Ronald de Koning elaborates: "Our software can assign tasks based on multiple priorities, due time, time limits, time windows, actual location of the AMR compared to others, and upcoming tasks. Order lines are managed real-time. Imagine a Ŝharko driving from the warehouse to a production line to pick-up finished goods. Halfway through its mission, an order for raw materials for the same production line is created. We can interrupt the original mission and switch to the high-priority one. So, it first collects raw materials, brings it to the production line and then collects the finished goods. So, we constantly check to optimise the orders, to create optimal performance."
But MoviĜo doesn't only look for ways to optimise the efficiency of the vehicle, but also reduce manual input. One way to do this is through vision.
"Our camera software manages buffer locations and communicates an available location to the Ŝharko," adds de Koning. "This enables locations to be used by AMRs and humans simultaneously without manual location management."
But MoviĜo's Intelligent Camera Kit can do more clever things. It detects a pallet on a certain location and automatically generates an order. Its latest update enables the system to detect if a pallet is empty and automatically generates a replenishment order.
Van der Hulst concludes: "I hate it when vehicles drive empty, because you purchase an AMR to do as much transports as possible. Even worse are Ŝharko that stand still, for example when there is no night shift. At one customer that doesn't work at night, the Ŝharko vacuums their production facility at night. If it adds to the return on investment, we have no problem with that."