Big Box brings RFID technology to SMEs
3rd August 2022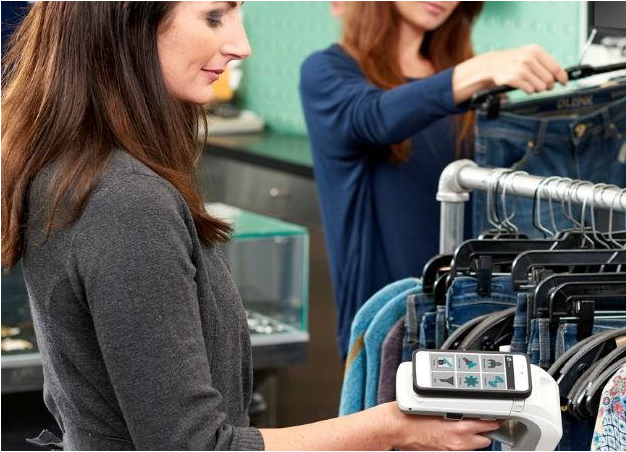 Big Box Automation, part of Big Box Group, has added Radio Frequency Identification (RFID) tagging technology to its range of inventory management products offered to SMEs.
This technology gives smaller businesses access to critical infrastructure, allowing them to compete in an increasingly customer experience-driven trading environment.
RFID technology is not new. Its roots go back to the 1940s. However, the e-Commerce consumer boom has sped up the development of RFID in terms of intelligence and ease of application, whilst reducing cost. It is now within the reach of individual companies and independent stores.
An RFID tag doesn't have to be seen or handled in order to record and access large amounts of data about an individual item of stock. Multiply this feature across multiple products to realise the advantage this technology offers to businesses who are embracing e-Commerce and same-day remote order fulfilment.
Consumer behaviour changed forever because of the Covid pandemic, accelerating e-Commerce and introducing an entirely new global audience. Alongside this change of behaviour also sits a global labour shortage, huge supply chain and logistical challenges, and unprecedented demand. These factors have created the perfect storm where smaller players with the same technological advantages can compete based on efficiency and flexibility.
Altaf Saddique, RFID Solution Architect, explains: "A retail clothing store, for example, would typically have to close to allow staff to perform a full manual stocktaking audit. This could even be overnight depending on the size and complexity of their stock ranges, obviously inconveniencing staff and costing the company money. Also, depending upon how frequently the manual checks were carried out, they could expect as low as 60% – 70% accuracy.
"With RFID, that same stocktake can happen within 20-30 minutes with 99% accuracy whilst the store is open for business, across multiple floors, stock rooms and changing facilities. If an item is tagged, and on the premises, the RFID scanner will find it."
Big Box Automation offers clients full technological support to deliver the benefits of RFID where required. Other expertise within the Big Box Group can also help customers with integrating RFID into other supply chain automation. This can include warehouse design, racking, storage systems, and handling equipment, including robot pickers.
Although retail and online fulfilment sectors are the first to benefit from the reduction in cost and increased accessibility to RFID technology, other sectors may eventually follow. The health and care sectors, for example, are looking at RFID tagging solutions to help manage assets and resources.
Jason Dyche, Divisional Director, said: "The Covid pandemic has super-charged progress in automation in terms of development, demand and application across the entire spectrum of application with new sectors opening all the time. Big Box Group is responding to the rise in demand from e-Commerce for same-day order fulfilment needs with robotics and automation. RFID used to be prohibitively expensive for SMEs, but the rapid development has led to the technology becoming the sensible choice in terms of cost-benefit.
"RFID tags have dropped in price considerably in the past ten years, from a few pounds to a few pence per tag. Add labour cost savings and the ability to monitor, and control stock, and respond to specific consumer behaviours, and it's a technology that no inventory-based business can afford to ignore or be without.
"At Big Box, we monitor developments in automation technology and bring the best of what's available to our clients when we see the emergence of the effective and affordable technology that can offer the right benefits. One such deployment was for an independent golf shop, not a huge multi-national online name, but a well-established local business with a great offering.
"RFID has helped the company take control of their stock inventory, track where items are in the system, keep up with parts and potential shortfalls and to allocate resources to identify the growth areas of the business rather than on chasing stock and solving supply issues."