Automation Software for Service Robots
30th March 2023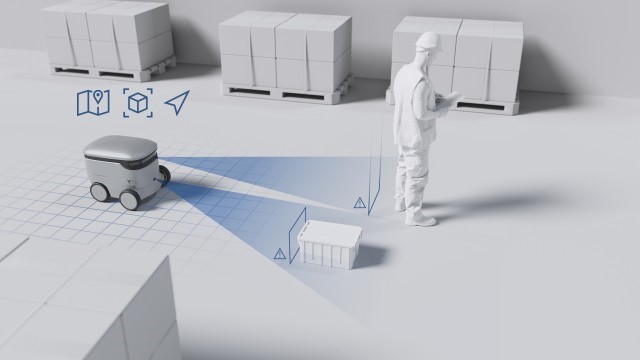 Service robots for commercial and industrial activities are a major trend. According to the International Federation of Robotics (IFR), 121,000 of the smart machines for professional use were sold worldwide in 2021, which represents a market growth of 37% in comparison to the previous year. The many possible applications encompass everything from the hotel and restaurant industry to medical technology, agriculture, and industrial cleaning.
The functional quality of mobile robots is largely determined by the automation software. Its development requires considerable robotics expertise and entails high investment costs. Thanks to a new software platform from Bosch, the automation of service robots can now be realized very quickly, easily, and efficiently. Machine manufacturers can thus concentrate on the core of their development work – that is, implementing the specific robot function for the application in question. "With our new software concept for automation, we are simplifying the development of service robots and making it easier for small and medium-sized manufacturers in particular to access the growing robotics market," explains Philipp Kurek, who is responsible for the Off-Highway operating unit at Bosch Engineering GmbH.
The new software platform from Bosch has a modular structure and offers all the necessary functions for complete robot automation in the form of three sub-elements: localization and mapping, obstacle detection, and motion planning (navigation). The various software modules can be integrated into the robot's control unit either individually or as a harmonized package. The Bosch Group boasts vast experience and extensive research expertise in navigation, driver assistance systems, and automation – for example, through developments for the automotive sector. "On this basis, we were able to create robot software with particularly precise, efficient perception of the surroundings, reliable signal evaluation, and smart navigation functions. Obstacles are safely avoided, and collisions are prevented," adds Isabell Maier, head of automation and robotics at Bosch Engineering.
The parameters of the automation software can be flexibly adapted to the specific requirements of the respective application. For example, a narrow obstacle avoidance path for cleaning robots can be specified in the same way as a greater safety distance for robots transporting potentially hazardous substances (e.g., hot liquids). The software also provides great freedom when it comes to the hardware concept. Depending on the robot's operating conditions, lidar sensors, cameras, or other type of sensors can be integrated into the system.
Standardized interfaces of the robot operating system (ROS) facilitate the integration of the software modules into the machine's software architecture. After around three years of development, Bosch's robot automation software has been in successful operation in a pilot application since the beginning of 2023. Further information is available to interested LogiMAT visitors at booth 6D31 in hall 6.