Tag the Temperature
5th December 2022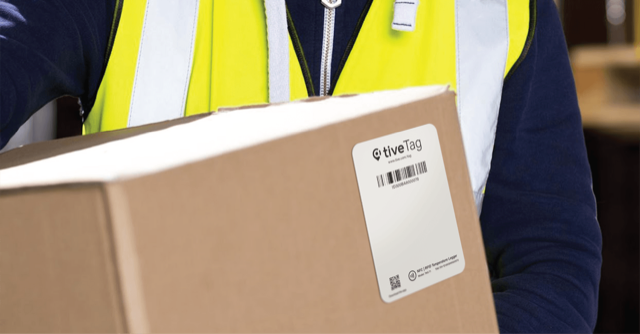 A new easy-to-use tag is bringing exciting new functionality to pharma and fresh food logistics.
Pharma cold chain logistics requires strict adherence to temperature ranges, regulatory controls, and tight expiration windows. When dealing with products that require ultra-low temperature tracking and monitoring – vaccines, biosamples, blood, and cell and gene therapies (CGT) are just a few examples — even the slightest temp excursion, failure to comply, or shortest delay could result in a lost shipment worth millions. In fact, failures in the pharma cold chain alone cost the industry an estimated $35 billion annually. Furthermore, there is no guarantee that shipments would arrive intact and usable without the ability to monitor temperatures, be exposed to humidity and light, or withstand an impact/shock event.
Fresh product transport faces similar issues. Today's consumers expect more than just food; they want freshness and sustainability too. This parallels the global supply chain, where the expectation is for on-time, in-full deliveries, freshness, and—no surprise—sustainability, with a healthy helping of innovation.
The solution is simple – full visibility in real time to control the parcel at every stage of their journey.
With Tive's supply chain visibility solution, the manufacturer can monitor the temperature and location of shipments in real time. If a shipment is set to the wrong temperature, the manager can contact the carrier armed with the information necessary to have the issue fixed right away. In addition, the manager can prepare replacement shipments as soon as a potential issue is identified, instead of waiting until arrival to discover damages and frantically manufacture and ship replacements. This means that the company can avoid lost time on the market and reliably deliver on its commitments to the end customer.
Trackers and Tags
Traditional Tive Trackers are compact, affordable, available for single or multi-use, and feature a one-button interface that makes them easy to use. The trackers stay attached to time-critical shipments until their destination, providing shipment data directly to customers at every step. Tive's cloud application sends custom notifications when issues arise. In the event of a temperature excursion, team members can quickly identify a problem with the dry ice or PCM.
"The development of technology allows the use of trackers and probes monitoring the goods cable in refrigerated conditions, which thanks to the use of IoT and cloud computing as well as universal access to the network allow for constant monitoring, among others, of temperature, humidity, or location of the shipment in real time, and even in the case of minimal deviations from the set parameters, all parties involved are notified with special alerts. Tive has been offering such solutions since 2016. The challenge for companies now is to implement such solutions on all freight requiring transport in a controlled temperature," said Dennis Perjet, Head of Strategic Accounts, EMEA.
Besides traditional trackers, which capture and transmit hyper-accurate location and temperature data of shipments in real time — enabling customers to actively monitor in-transit shipments, take action when deviations occur, and identify areas for supply chain improvements – this summer Tive introduced a new solution, called the Tive Tag. It is a cloud-enabled temperature logger, in the form of a thin, flexible shipping label, and at half the cost of a conventional logger.
"The Tive Tag is a simple solution for shippers, retailers, cold storage operators, and last mile delivery," said Dennis Perjet. "It's a shipping label with an incredible amount of tech embedded inside it. And it's incredibly easy to use. In just 3 steps you stick the label on, scan the label with your phone, and ship."
Tive has a portfolio of award-winning cold chain innovations. Tive covers the full range of temperatures required to protect all critical cold chain shipments—including dry ice and cryogenic shipments. In addition to lithium and non-lithium Solo 5G trackers (TT-7000/TT-7100) already covering the temperature range of -30°C to +60°C, Tive is adding new trackers with probes that will reach -200°C to monitor dry ice and cryogenic shipments.