LogiMAT Team Adds Thailand Show to China Event in Asia Expansion
13th May 2019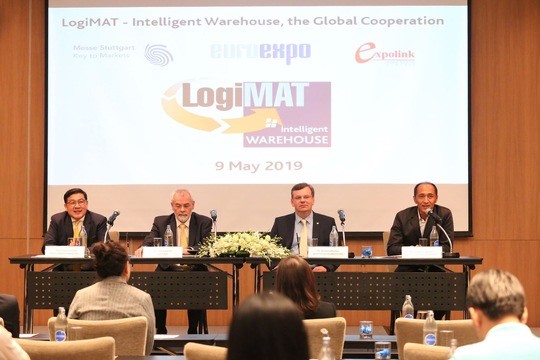 LogiMAT organizers EuroExpo have bought Thailand event, 'Intelligent Warehouse'.
The biennial event, 'Intelligent Warehouse – Logistics Technology, Warehousing and Management Systems', an exhibition of innovative warehouse systems and future warehouse management with modern technology, was first held in 2015 with a total of 50 local and international exhibitors. The show has since attracted a growing interest from the local network. The next 'Intelligent Warehouse' will be held from 24-27 July 2019 at IMPACT Exhibition Center, Hall 5, IMPACT Muang Thong Thani.
In what they call a bold move to expand the potential and depth of the event in the logistics segment, Expolink partners EuroExpo and Messe Stuttgart, have collaborated, tapping in on their expertise and international network to showcase more quality exhibitors, products and technology. This is also a market response to the needs of exhibitors and visitors, who are looking to enhance the image of professional managers at a global level. The first 'LogiMAT | Intelligent Warehouse' will be held on 13-15 May 2020.
Peter Kazander, Managing Director of EUROEXPO said, "Over the last 16 years, LogiMAT at Stuttgart has grown to be the world leading tradeshow in its field. After we launched LogiMAT China successfully in 2014 we are happy to join the South-East Asian market now. Together with our strong partners, we are looking forward to the first 'LogiMAT | Intelligent Warehouse' in Bangkok in 2020. With this step we offer our exhibitors a fantastic opportunity to enter or expand in this fast developing market."
Pictured from left are: Phusit Sasitaranondha, Managing Director Expolink Global Network, Peter Kazander, Managing Director of EUROEXPO, Bernhard Müller, Vice President and Member of the Board of Management of Messe Stuttgart and Sarawut Laoprasert – Founder of Thai Intralogistics Association