Builders Merchant Chooses Baumann Sideloaders
7th December 2018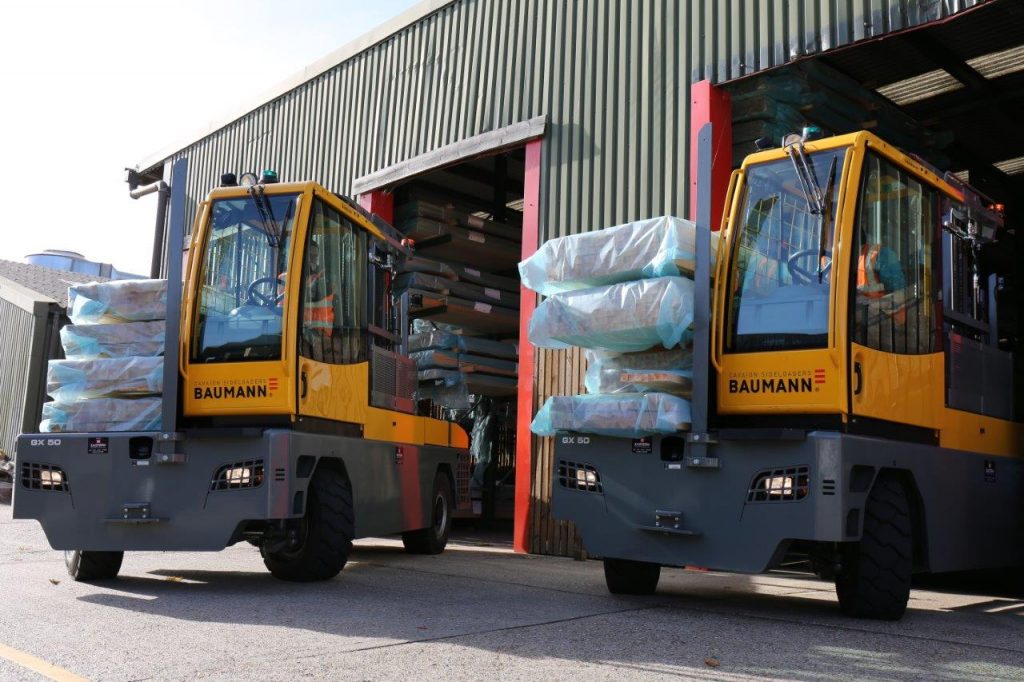 UK company Ridgeons Timber and Builders Merchants has improved efficiency by upgrading its fleet with Baumann sideloaders.
Handling timber effectively across fast-moving sites helps drive efficiencies and produces a higher quality service, says Forest Products operations manager, Eddie Hart:
The kit now includes two new Baumann GX50 sideloaders, complete with the award winning Archimedes outreach system, ensuring fine control for the operator. Hydraulic cylinders traditionally drive a sideloader outreach system (the method by which the forks reach out to the load and return it to the load bed) by applying pressure to opposing rollers that slide along their respective channels, in a pantograph-style mechanical linkage.
The new Baumann GX Series utilises the direct drive Archimedes screw and sliding blocks, to extend the fork carriage, whilst preventing horizontal movements and eliminating unnecessary stresses. The system is low in maintenance and simple in design, with a high level of engineering and durability to ensure greater safety, smoother control and perfectly synchronised outreach for highly accurate and efficient load control. The whole outreach system works in unison, which means ideal results each time, and maximum working speeds. Baumann UK general manager, Mark Bann says the GX is a good fit for the site. Said Mark: "The operation here is great, with very well set out cantilever racking and a big site with long runs, which the GX50 is superb at. The new outreach system is revolutionary, it ensures a lot smoother and fine control for the operator. They work very long hours, between 40 and 60 a week, so they need the control, power and the accuracy of the outreach system."
Despite having only been on site for a relatively short time, the upgrade to Baumann has already been noticed, comments Mark: "Feedback from the operators is very good, they also see the build quality and benefit of the self-levelling deck, where loads are secure on slopes and inclines. We are supporting Eastern, one of the big dealers in the UK for Baumann products. They have worked with Ridgeons for many years and they know the team here well. There's also our latest electric ELX model at the Galaxy distribution centre near Lakenheath. The ELX is a high performing, high specification machine that has the added benefit of being able to work indoors and out, with no emissions."