Industry View: Interview with EXCHAiNGE 2018 Speaker
19th September 2018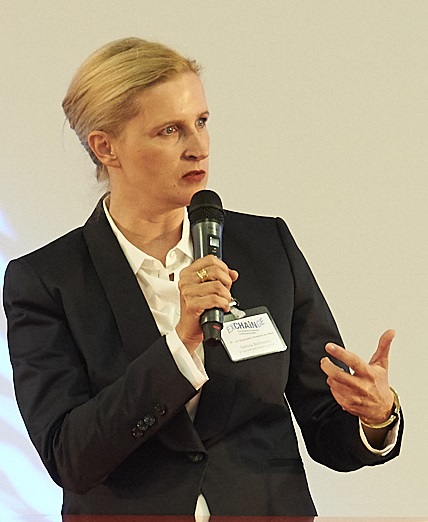 "Only when you learn to recognize and accept different perspectives do you discover new possibilities." Sabine Ursel talks to Bettina Bohlmann (above), Managing Partner of 3p Procurement Branding GmbH in an interview focused on themes to be explored at this year's EXCHAiNGE event in Frankfurt.
Ms. Bohlmann, the subject of digital transformation is inextricably linked with the broader idea of culture and mindsets. This is now widely acknowledged. But a strategy requires much more than slide decks and statements of intent, right?
Bettina Bohlmann: Definitely! Culture is a complex interaction of many factors. A cultural shift begins with a clear understanding of what culture actually is. The deeper the common understanding of the factors and mechanisms involved, the more effective the efforts at optimization.
Employees typically perceive and describe an existing culture differently than the company executives or management. How can everyone agree on a common denominator for change? Who actually defines the new parameters?
Bohlmann: If by "common denominator" you mean clarity about one's own responsibility and openness in sharing knowledge and experience, then that is one of the keys to success in digital transformation. Taking the idea of change seriously means having the courage to leave behind familiar patterns and traditional structures. It means being curious. Only when you learn to recognize and accept different perspectives do you discover new possibilities. Managers need to become role models through their personal conduct. If managers embrace the idea of giving employees responsibility and decision-making autonomy in their respective areas of expertise – in agile teams, for example – then the parameters can also be defined together. My job as a facilitator of transformation is to hold up a mirror in a space free from judgment. That's easier for many managers, since I look at how things are done and what results are achieved – not only as a business psychologist, but above all with an understanding of processes and tasks.
You say: "We're looking for teams capable of handling complex supply chain challenges, who can grapple with and master uncertainty, ambiguity, and rapid change." How can that be achieved – and above all, maintained – in the hectic day-to-day business environment?
Bohlmann: By eliminating ineffective communication loops, for example. Employees – and managers as well – are often busy trying to protect themselves or their accomplishments and areas of expertise, even in meetings. This obstructs cross-departmental project collaboration. Meetings should be focused on finding solutions. It's important to create greater transparency. Employees need to see who is currently working on what and understand the objectives and desired results. That's the only way to turn fragments into a cohesive picture. Building diverse teams requires an up-front investment of time, of course. This includes analyzing which of the conceivable actions promises to be most effective.
What kind of signals and actions need to come from management for change to be seen as credible and authentic? And how do you deal with the holdouts?
Bohlmann: When processes change, there will always be some people who won't come on board, of course. That's to be expected. But those who stand in the way are not necessarily ignorant or incompetent. They're valued employees, and it's worthwhile to understand their motivations and thought processes. The aim, after all, is to get all employees and teams working toward the same goals. That's easy to say, but it's a real challenge for managers. Orders and commands from on high are not helpful. Leadership means being personally approachable – a quality that some managers have not yet made a priority – and anticipating consequences together. It also means explaining what you announce or promise and sticking to it. Feedback is a vital part of that.
What exactly will you talk about at this year's EXCHAiNGE? I found your real-world exercises in past years very enlightening.
Bohlmann: I'll be involved with EXCHAiNGE this year for the third time, including the conceptual design. This platform thrives on interactive exchanges between peers, with presenters from various disciplines who genuinely have something to say. In November, we'll return to share insights that are definitely meant to shake things up and offer attendees a strong potential for improving their own business. I look forward to seeing many familiar faces and having stimulating conversations with people throughout the supply chain community.
Session:
Culture and mindsets for the digital transformation:
Reinvigorate your business by eliminating barriers to innovation
November 21, 2018 | "Harmonie C" room | Conference Area Hall 5.1
Save the date:
EXCHAiNGE – the Supply Chainers' Community 2018
6th international supply chain meeting
with sessions, panel discussions, live simulations, the presentation of finalists, and Award Night ceremony
November 20-21, 2018
at Hypermotion in Frankfurt am Main