Combi-IMSC Straddle Carrier Targets Midsized Intermodal Sites
11th August 2020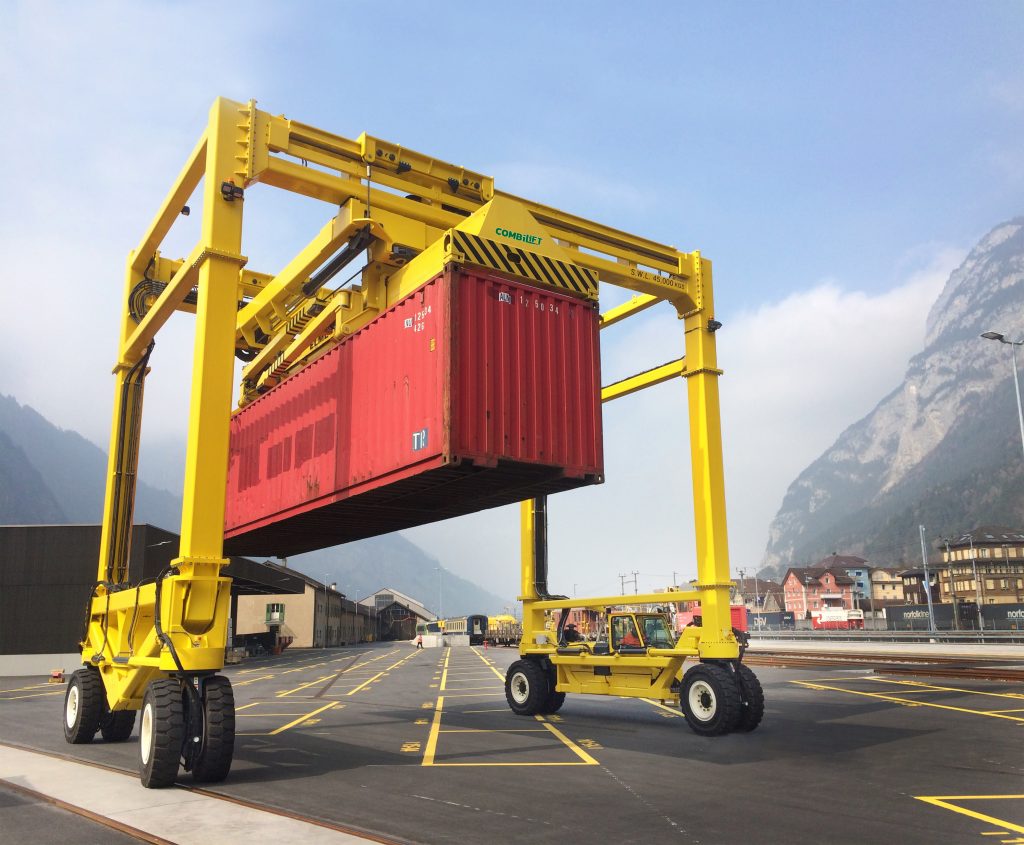 Irish material handling manufacturer Combilift has launched the latest variant in its Straddle Carrier range.
The Monaghan-based firm first focussed its attention on the container sector in 2010 when it launched its Combi-SC Straddle Carrier range. It has since developed a number of variants of this economical and flexible alternative to other heavy handling equipment, the latest of which is the Combilift Combi-IMSC Intermodal Straddle Carrier. This is aimed primarily for use at inland container terminals which typically handle lower volumes of containers compared to the main sea ports, but still need a machine capable of doing the same task.
Conventional port straddle carriers are typically higher and wider and are designed to work at speed to quickly turn around very large volumes of containers. But these are often far too expensive for midsized intermodal terminals, where only a few trains per day may need to be unloaded, and where margins can be tight. Due to the demands on conventional pieces of equipment, their specifications also often exceed what the smaller terminals actually need, so the Combi-IMSC offers a cost-effective customisable solution and fills a niche in the market.
The Combi-IMSC is ideal for handling containers between a terminal's rail siding and its storage/transport lane, and it's a more simple piece of hydraulic lifting equipment which reduces the total cost of ownership. Operating, maintenance overheads and fuel costs are therefore lower than the higher-capacity products.
In contrast to Combilift's regular Straddle Carriers, the IMSC is fitted with 8 wheels as standard, with two super-elastic puncture-proof tyres on each axle. It features a fully-enclosed high specification driver compartment with air conditioning, joystick control and rotating seat which is positioned high off the ground for excellent visibility via the half glass floor. But in common with the other Combi-SC models, it benefits from a lighter footprint compared to other heavy handling equipment as it does not need to be counterbalanced. This avoids the need for costly investment in special infrastructure on site such as expensive civil works which can put yet more financial strain on midsized operations.
The load on each corner of the Combi-IMSC would be half that of a typical reach stacker performing the same operation. As the machine typically operates in a straight line alongside the train there is less need for sharp turns or reversing, this reduces impact on the ground surface to a minimum and significantly increases the life of the tyres. Also as the machine is equipped with multidirectional steering it can easily leave the rail track and carry out other loading, unloading, and stacking tasks in a different area of the terminal.
Customers also benefit from Combilift's ability to customise the machine so that it also able to lift other oversized loads for added versatility. Coil clamps, grapple arms and rotating forks are some of the additional attachments that Combilift has manufactured or supplied for Combi-IMSC customers.