Trailer Firm Continues 30-Year Carrier-Cooled Ops Tradition
6th February 2019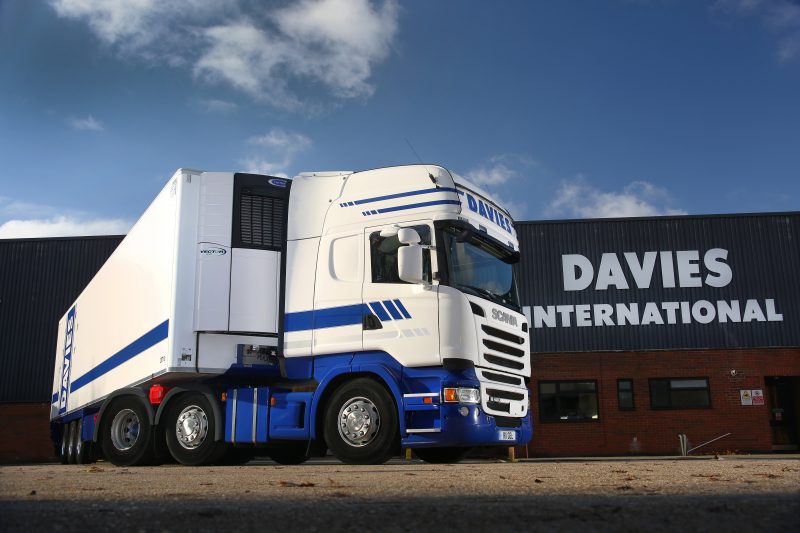 Hampshire(UK)-based Davies International has updated its fleet with 10 new temperature-controlled trailers featuring Carrier Transicold Vector® 1950 units – continuing a 30-year tradition of running a 100 per cent Carrier-cooled operation. Carrier Transicold is a part of Carrier, a leading global provider of innovative HVAC, refrigeration, fire, security and building automation technologies.
The new 13.6-metre trailers are like-for-like replacements and will be used intensively seven days per week, covering up to 150,000 kilometres each year. They are mounted with the first Vector 1950 units operated by the firm, which has enjoyed exceptional reliability from its previous generation Vector 1850 units over the last decade.
Regular payloads will include temperature-sensitive pharmaceuticals, ships' stores and food products moving between the UK and mainland Europe. The company is a recognised specialist in cruise logistics, supporting ships calling at both domestic and international ports, where reliable and timely delivery is imperative.
To further help with its temperature-critical pharmaceutical loads, Davies International utilises Carrier Transicold's DataCOLD 600 temperature recorder, which uses probes to independently monitor temperatures and identify any deviations, helping to maintain precise set-point control. The company also uses Carrier Transicold's recommended tracking, telematics and fleet management system, which displays the precise location of the trailer, along with live temperature data to help operators react accordingly in order to prevent any spoiled goods.