Case Study: Wanzl Roll Cages Supplied to University Hospital Zurich
6th March 2019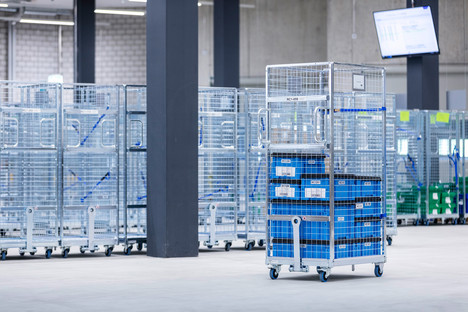 With 43 hospitals and institutes, over 980 beds, more than 500,000 outpatient visits and over 42,000 inpatients, the University Hospital Zurich is one of the largest clinical operations in the world. Managing all of this effectively and for everyone's benefit requires sophisticated intralogistics for medical and non-medical consumables. The construction of the new UHZ Logistics and Service Centre in Schlieren, which supplies the UHZ centre in Zurich as well as the external wards, made it necessary to put in place specially coordinated roll containers for distribution. The organisation found Wanzl Logistics + Industry to be the ideal partner for this task.
Nothing less than a highly functional all-rounder was needed. This is because the roll cages are used throughout storage and distribution logistics at University Hospital Zero, including in order picking, cross-docking, truck transport, and internal transport in the clinics. "The wide range of uses at various locations was of course a challenge. However, it was one we were able to overcome, thanks to our experience in the logistics industry and our flexible manufacturing expertise," commented Markus Spengler, Head of the Wanzl Logistics + Industry business sector.
The transport trolleys have been configured both for the respective local circumstances and the various tasks they need to fulfil. Not only are the roll cages now utilised in all logistics processes operated by University Hospital Zurich, but they are also ready to be used for the distribution of goods to medical and non-medical end customers, as they fit easily through normal internal doors. Another particularly practical benefit comes from Wanzl's robust and innovative drawbar design, which means the roll cages can be easily coupled with one another for movement in train. When used for transporting commissioned containers and commissioned piece goods, these are loaded into a truck, moved from central storage to the respective destination, and – after delivery – brought back with the empty containers. At the same time, the trolleys are designed for optimum utilisation of space in the truck, so that there is no dead space.
This is achieved using space-saving and easily lowered handrails, as well as standardised internal and external dimensions. The roll cages also have other features that are particularly important for use in hospitals. "Quiet and smooth running was a basic requirement for the roll cages, as they are also used in hospitals themselves. Patients should not be disturbed, and employees should be able to perform their work as easily as possible," explains Markus Spengler. Ultimately, manoeuvrability and ergonomic design are of enormous importance for users. High-quality swivel castors with rubber treads, fold-out handles, and lightweight design optimise handling. Locking brakes on the variable castor wheels guarantee stability, and the open fourth side results in easy, effective loading and unloading of the cages.
The UHZ Logistics and Service Centre in Schlieren is a seminal step for the University Hospital Zurich – making it all the more important that the organisation has found a reliable and strong partner in Wanzl Logistics + Industry.