Finland's ConFoot Looking for More European Distributors
29th August 2018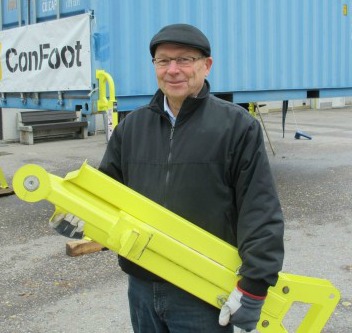 Finnish sea container leg manufacturer ConFoot is looking to expand its European distribution network.
ConFoot Ltd is a Finnish logistics company designing and manufacturing patented sea container legs (pictured, with founder Timon Kuva) that can be operated by one person, getting a max 30 ton container free-standing on the legs in a matter of minutes. Requiring air-suspension chassis to work, the natural key market area is Europe. With an active and successful distributor network in 13 countries, ConFoot says its legs enjoy especially booming sales in Germany and the Netherlands.
The company's end clients operate in a variety of fields of industry, and says it has this year experienced increased interest from military, logistics, retail, automotive and energy industries. It names references including Finnish Defence Forces, IKEA, Lear Corporation, enerXia, Bobe Speditions, Framery, Kuehne + Nagel and Orion Engineered Carbons.
Working in close collaboration with distributors, Confoot says it has identified and implemented a successful distributor approach, and is gaining market share in several countries. Building upon these experiences, it now wants to expand its European distributor network.
"We expect our distributors to be an active company or individual with resources and enthusiasm to create proactive sales, with marketing and advertising capabilities in the local market, established contact network and presence in local trade shows," says Global Account Manager Sami Seppänen. "Our current successful distributors include logistics companies, container sale and hire companies as well as companies with a diversified product portfolio."
Seppänen, a recent addition to the ConFoot team, welcomes all enquiries related to ConFoot products, and is open to discussions with new potential distributors in select regions and countries. Call +358 40 142 6796, or email sami.seppanen@confoot.fi