Which Countries Have Highest E-commerce Levels?
24th March 2023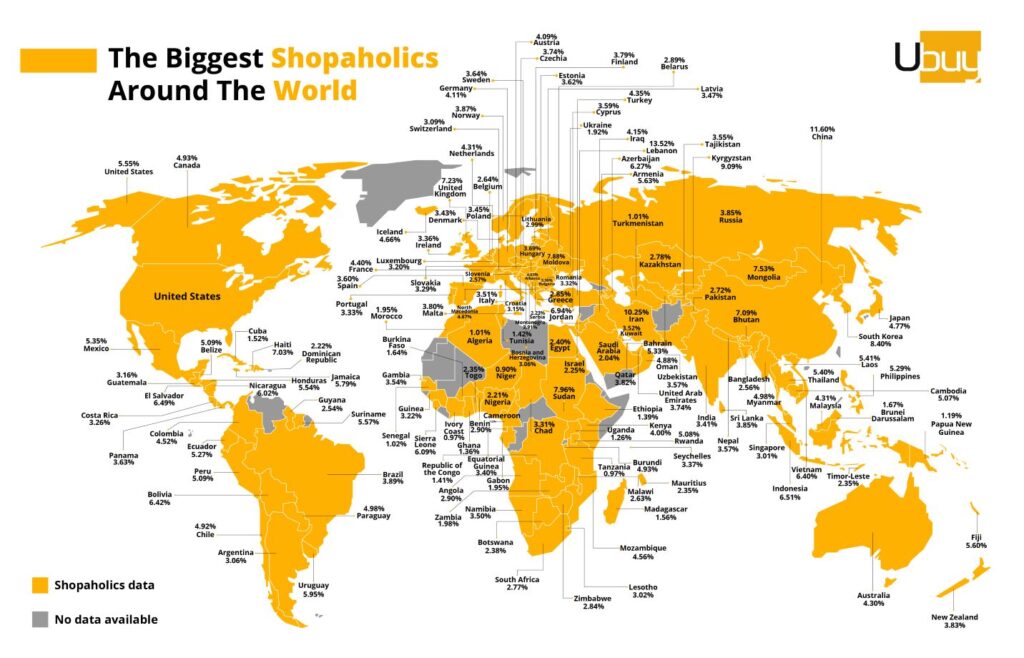 It's no secret that e-commerce has grown rapidly in recent years, helped along by global events, such as the Covid-19 pandemic which encouraged more consumers to shop online versus in physical stores.
With access to the internet being easier than ever before, the established global e-commerce network Ubuy wanted to know which are the 'shopaholic' countries – those which had seen the highest volume of online purchases.
In a new report analysing worldwide spending data, Ubuy compared the amount spent per country in relation to each country's average annual income and population. Those that had spent the most money in relation to their annual income were deemed the most 'shopaholics'.
Ubuy's research found that, globally, around $3,913,058.90 is recorded in e-commerce spending annually. Using the most recent world population figures (7,888,408,686 people), Ubuy calculated that this is equivalent to $496 spent per capita – approximately 5.7% of an average income ($8,742) on e-commerce alone.
In first place was Lebanon, recording an annual e-commerce revenue of $3,269. While this may not seem like a large number, this is equal to $585 per capita with a population of 5,592,631 people. The average household income for Lebanese people is $$4,323 per year, making the amount spent on e-commerce equate to around 13.5% – a significant amount.
In contrast, China recorded a massive $1,240,968 per year in e-commerce revenue. This was equivalent to $879 per capita for China's population of 1,412,360,000 people. In terms of household income, the average income was around $7,572 per year, with e-commerce spending equating to 11.6% of their income annually.
The research found that, overall, the majority of countries had recorded relatively large volumes of e-commerce revenue – a testament to how much e-commerce has grown in recent years.
Commenting on the research, Faizan Khan at Ubuy said: "Our research revealed which countries have recorded the highest proportional volume of e-commerce revenue annually, in relation to the average household income for each country.
"It's interesting to see that many countries actually spend more of their annual income on e-commerce than the global average, highlighting how prominent this spending platform is in many people's lives.
"As a well-established e-commerce platform ourselves, we've seen first-hand that online spending has grown massively in popularity in recent years, particularly following the pandemic. However, it was interesting to break down the global data and see just how these spending trends have emerged in different countries.
"Most notably, our research also revealed that many of the countries that had the highest volume of 'shopaholics' were located in South Asia and the MENA region."
Broken down by country, the top 10 'shopaholic' countries were:
Lebanon – $3,269 per year, 13.5% of average income
China – $1,240,968 per year, 11.6% of average income
Iran – $15.878 per year, 10.3% of average income
Kyrgyzstan – $531 per year, 9.1% of average income
South Korea – $109,842 per year, 8.4% of average income
Sudan – $1,406 per year, 8% of average income
Moldova – $842 per year, 7.9% of average income
Mongolia – $761 per year, 7.5% of average income
United Kingdom – $176,444 per year, 7.2% of average income
Bhutan – $137 per year, 7.1% of average income
CLICK HERE to access the full research.