JCB Launches Second Electric Teletruk at IMHX 2019
3rd October 2019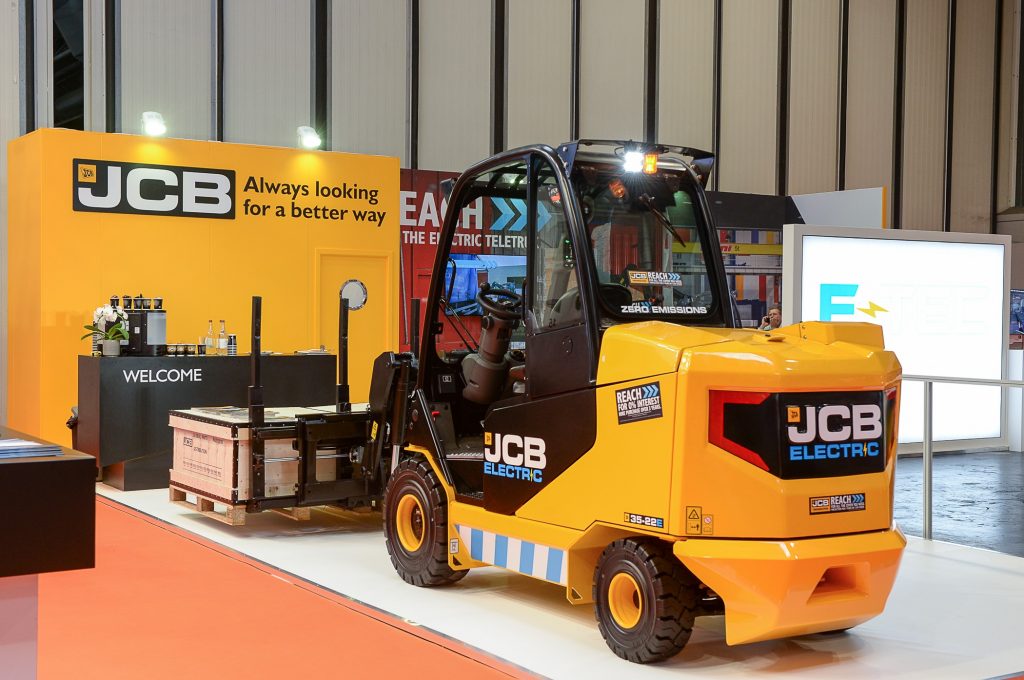 IMHX 2019 saw the launch of a second electric-powered JCB Teletruk telescopic lift truck – the JCB 35-22E. It has a lift capacity of 3.5 tonnes and joins the JCB 30-19E battery powered model which was added to the award-winning Teletruk range earlier this year.
JCB's Teletruk General Manager Paul Murray said: "The JCB Teletruk has revolutionised materials handling operations in builders merchants, ports, recycling centres and industrial facilities around the world since it was first unveiled in 1997 and the introduction of these electric machines means that Teletruk technology can now be deployed both inside and outside the warehouse, distribution centre or factory facility to deliver the ultimate in materials handling versatility."
He added: "The new battery-powered telescopic forklifts bring the proven advantages of the unique Teletruk to applications where zero emissions and near silent operation greatly improve working conditions for the operator and other personnel working in the same area, while also benefitting the wider environment."
The new JCB 35-22E's power is provided by an 80-volt lead acid battery which can work a full eight-hour shift on a single charge. The battery compartment is positioned at the rear of the truck and has been designed to allow quick and easy battery changeover. Using a single point hoist or another lift truck, the battery can be swapped in around two minutes – ensuring truck uptime is maximised.
Thanks to its electric driveline, the new JCB 35-22E can climb a 21% gradient or ramp with ease and, when required to work outside, the truck's fully sealed, weather-proof body protects the driveline and other key components from the elements.
The JCB 35-22E Teletruk is fitted with JCB's LiveLink telematics system as standard allowing real-time measurement of energy consumption and detailed analysis of machine utilisation. With its iconic telescopic forward reach boom, the JCB Teletruk was developed as an alternative to the conventional lift truck, which, of course, has a front-mounted mast that raises and lowers loads only vertically.
The forward reach functionality makes the Teletruk the ideal choice of lift truck at sites where containers, curtainsided trailers, vans and other delivery vehicles have to be loaded and unloaded quickly, safely and efficiently.